Matsue, the capital city of Shimane Prefecture, is often called "The Chief City of the Province of the Gods," a title that symbolizes the deities Susano and Okuninushi worshipped in Shimane.
According to the ancient Japanese records known as Kojiki, Susano, a Kami, decapitated a malevolent serpent, bringing peace to ancient Shimane. Okuninushi, believed to be either a distant descendant or son of Okuninushi, underwent numerous trials to become a ruling Kami in ancient Shimane. These revered deities have long been enshrined as guardians deities of Matsue.
However, once a year, in the middle of March, Matsue's rule is temporarily transferred to a Christian patron saint from a foreign country, even though Shimane is the homeland of Japanese Shinto. This honour belongs to St. Patrick, the patron saint of Ireland, located in northern Europe. Dublin, its capital, derives its name from the Irish word "Duibhlinn," meaning "black, dark," and "linn," referring to a dark tidal pool. During this time, Matsue—its symbol colour is camellia yellow—is dyed green, associated with the shamrock of a theme of Ireland. The melodies of uilleann pipes and harps—a symbol of Ireland—resonate throughout the oriental water city which has a vast Shinjiko Lake and several rivers, canals, and many bridges and operates excursion pleasure boats like Venice, Italy.
Matsue and Ireland have cultivated a deep friendship thanks to Patrick Lafcadio Hearn, an Irish-American journalist. Approximately 140 years ago, Hearn introduced this oriental city as "The Chief City of the Province of the Gods" to the Western world. This influential work fostered a strong bond between Matsue, other regions of Shimane, and Ireland.
In 1995, Her Excellency Mary Robinson, a former president of Ireland, visited Matsue to commemorate Hearn's achievements. The writer's mother, who worked at a souvenir shop, had the privilege of serving Mrs. Robinson's first gentleman. In 2002, the Irish National Football Team held a training camp in the city of Izumo, an ancient capital from Japanese mythology. The writer watched a team's match and learned later that his former English teacher had been appointed as an interpreter, then invited to Dublin by the Chair of the Irish Football Association as a token of gratitude to the Japanese woman. In 2008, the Irish National Swimming Team trained at a pool in Matsue for the Beijing Olympics. Additionally, in 2019, a multitude of Irish rugby fans flocked to Matsue, despite the city's limited involvement in the Rugby World Cup.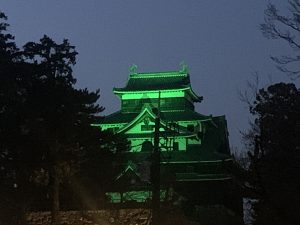 The historic former Matsue Central Post Office Building hosted performances of the Irish movie "The Death of James Connolly" while displaying the national flag of Ireland, which consists of three colours: green, symbolizing Catholic; orange, representing Protestant; and white, meaning peace mingling between Catholics and Protestants.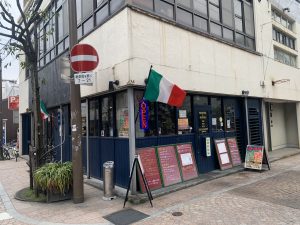 As previously mentioned, the people of Matsue have embraced the culture of this Celtic nation. Since 1992, Matsue has welcomed a Coordinator for International Relations (CIR) from the Northwest European country. Anthony Kelly, a Dubliner, has been dispatched to the Matsue City Hall since 2017, promoting Matsue's cultural heritage, such as Dogyouretsu, Horan-enya, and the tea ceremony, to the world, with his five international colleagues. He actively engages in interpretation and translation between Japanese and English during international events in the city, like the Rugby Event 2019, where he successfully moderated a group of 160 Irish rugby fans.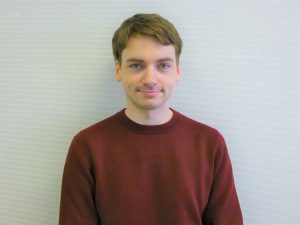 (Photo by Matsue City)
"Managing those Irish fans was both challenging and memorable because once they grab the mic, they won't let go until they've sung their hearts out. However, I managed to handle it, and the event felt like an Irish Karaoke party," said Kelly.
Kelly's profound interest in Japan led him to study the Japanese language during his teenage years. He became captivated by the Japanese idol group Nogizaka46, enabling him to speak Japanese with proficiency. Thanks to his advanced language skills, he regularly lectures on the relationship between Matsue and Ireland at schools and community centres in Matsue, earning praise on every occasion.
He has thoroughly enjoyed his life in Matsue City, with his favourite places being Kiharu, a teahouse in the Matsue History Museum, and "Wan" Riva, a dog café in the Tamatsukuri neighbourhood. Although not a fan of Soba outside of Shimane, he preferred Izumo Soba which has its unique milling technique, bringing out its distinctive aroma, sweetness, stickiness, and dark colour. Kelly has also developed a fondness for boiled eel and dumplings, particularly enjoying the taste of green tea, which are renowned products of the Japanese provincial city.
During his time in Matsue, Kelly found his life partner and celebrated his wedding ceremony at Izumo Grand Shrine, one of Japan's most high-status Shinto shrines, while being blessed by Susano, Okuninushi, and St. Patrick. His family from Ireland attended the ceremony and enjoyed sightseeing in Matsue and its surrounding tourist attractions, like Matsue Vogel Park, where his brother and brother-in-law marvelled at the beautiful flowers.
All of these experiences have made Matsue an unforgettable place for Anthony Kelly. Although his term is ending this month, the citizens of Matsue hope that Mr. Kelly will maintain a strong relationship with the city and may drop in again one day as a successor to his predecessor, Patrick Lafcadio Hearn who once stood on street corners of Matsue and embarked on a remarkable journey by way of his loved place.
(Takashi Saito)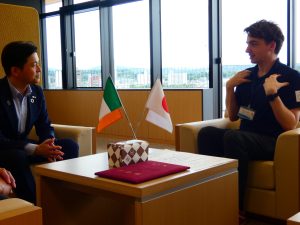 Kelly and the mayor of Matsue City (Photo by Matsue City)