Matsue – Matsue city had flourished as a shipbuilding town. Many shipyards and their partner factories existed until the middle of the Showa period. Funaki Tetsukousho (Funaki Iron Works) started its business as one of the supply chains for the shipbuilding industries, having continued operating until the beginning of the Reiwa as a crucial function for manufacturing in Matsue.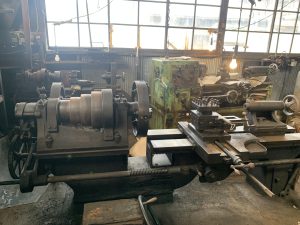 The death of Mr.Yasuo Funaki, a manager of Funaki Tetsukousho, made the factory close down in June 2020. The vacant factory in the center of Matsue quietly had remained until successors renovated it. The successors are the members of the community enhancement unit Dokkoisha. The group consists of Ms.Kaori Inoue, a skipper of Yada Ferry; Mr.Yuki Kajita, an architect; Mr.Masayasu Kobayashi, a Buddhist monk. Her earnest passion for the factory revival persuaded Funaki's bereaved family to reuse it.
Dokkoisha plans to reopen the factory for DIY users this Spring. The Covid-19 has been increased the demand for DIY to renovate the ex-small factory into a new craft space. The users can use the high-quality tools and equipment of Funaki Iron Works in order to make their do-it-yourself products. Also, the members of the community enhancement group acquired the technic and license of arc welding to assist the users' craft makings.
The craftsmanship has been handed down from Mr.Funaki to the new generation. The legacy of making masterpieces is never disappeared. The buzzing sounds of machines are ringing in the center of Matsue.