Sacred Islands
Ama-cho, among the enchanting Oki archipelago in the Sea of Japan, exudes a magnetic allure with its pristine and awe-inspiring beauty. Located majestically 80km from the mainland, this island town forms a realm entirely of its own.
Seven million years ago, when the islands underwent a seismic awakening, they were anchored on the ancient rock left behind when the Eurasian continent and Japan separated. This event led to the creation of a beautiful natural artwork called Dozen and Dogo within the Oki Islands, covering 346 sq km. This unique genesis bestowed upon the islands the esteemed distinction of being part of the exclusive UNESCO Global Geoparks, an elite group of only 127 locations worldwide, and also designated as Daisen-Oki National Park. Ama is formed as a part of Dozen.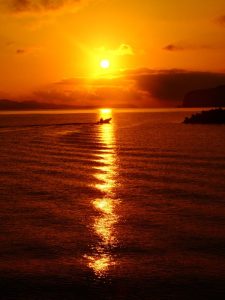 (Photo by Nozomi Katayama)
The echoes of history resonate in Ama, as it holds a significant place as the very location where Emperor Emeritus Go-Toba was exiled. As the 82nd emperor of Japan, his reign endured from 1183 to 1198. The emperor's attempt to resist the power of the Kamakura Shogunate, which held sway as a military dictatorship over Japan, failed and led to his enforced exile from Kyoto to Ama. Confined on the island for two decades until his passing, his soul has been held at a memorial service in Oki Shrine, a hallowed monument dedicated to Emperor Emeritus Go-Toba.
Access from Tokyo
The typical route to Ama takes a total of 7 hours and involves flying with All Nippon Air from Haneda to Yonago A.P., which takes 1.5 hours, and then taking a 50-minute bus ride to Shichirui Ferry Terminal. Visitors should then take a 3-hour ferry ride to Hishiura Port. The total roundtrip costs are around 100,000 yen.
Reborn Ama
Despite being far from the mainland, the current Ama is known as a thriving Japanese remote island town, attracting more than 100 people who have moved from all over Japan annually. This phenomenon is causing a rush in housing development. The place's breathtaking scenery entices big urban-based corporations to conduct training in the town. However, the road to success has not been easy. Ama faced a population decline of around 2000. The Japanese government also drastically cut subsidies to the town back then. Considerable debts impaired the municipality's finances, and the rate of (ageing)elderly people reached 40%. As a result, Ama was about to go bankrupt and was nearly falling into a deficit-ridden local government (Zaisei Saiken Dantai).
Yet, what truly sets Ama apart has been its inhabitants' unwavering fortitude, who proudly embraced the slogan" Nai monowa nai ( There is nothing Ama Town doesn't have)." Faced with this crucial situation, the former mayor and his staffers, driven by a profound sense of responsibility, voluntarily halved their salaries, becoming the lowest compensated salary among all local municipalities in Japan. They pledged to stand a fallen pole again by their leadership.
Meanwhile, while harnessing abundant regional resources, private sectors embarked on cultivating Iwagaki oysters, affectionately known as Haruka. This delicacy swiftly captivated the hearts and palates of Greater Tokyo. This enterprising venture breathed new vitality into the island, increasing employment opportunities.
Unyielding in their pursuit of excellence, a visionary construction company ventured into cattle farming. Their audacious approach involved raising cattle within the confines of Ama, allowing them to graze on natural grasses and drink fresh water from mountain streams. This beef is Okigyu and now represents Oki Islands' famous production.
Attracting next generation
Ama-cho's triumphant tale extended to the realm of education. The town ardently pursued an educational reform plan, resurrecting Oki Dozen High School, which once teetered on closing. Despite its obscurity, this institution held immense importance for Dozen Islanders, comprising Ama, Nisinoshima, and Chibu. By 2005, only a handful of students were enrolled. Nevertheless, a renewed educational plan implemented in 2008 breathed new life into the school. Ama Town established a public clam school, enriching students' learning experience. This transformative reform paved the way for some students to pass to prestigious universities, drawing aspiring students who want to study on the island. Consequently, Oki Dozen High School has become an acclaimed educational institution across Japan.
Despite those brilliant successes, people in Ama are striving to address a pressing issue: the shortage of nurses. Ama is such a remote island that it should be exposed to face insufficient nurses to be concerned about medical matters if the current situation persists. To tackle this problem, Nozomi Katayama was hired by Ama Town Office. She arrived in the town as a public nurse from Tokyo in April. Despite being a town worker, she works as self-employed for half a day due to her unique employment contract called a semi-public worker. This unique hybrid system originated from Ama and spread throughout Japanese municipalities to solve local issues using staffers' skills and interests.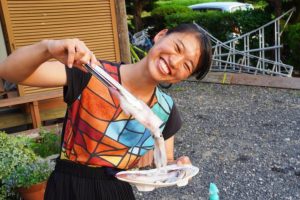 (Taken by a 3rd-grade student of Oki Dozen High School)
Ms. Katayama was born in California and brought up in the U.K. until she reached the 3rd grade of elementary school, then moved to Tokyo. Her international excursions led her to study nursing at St. Luke's International University while volunteering in Singapore and Myanmar. After graduating from the university, she developed her career in the nursing and welfare fields. Consequently, she was drawn to the brilliant town of Ama, introduced by her acquaintance.
She aims to attract more nurses to the remote town by leveraging her passion for travel and planning tours for nurses working in urban areas like Tokyo or Osaka to spark their interest in Ama. Her love of travel allows her to work for Nakamura  Inn, Tajimaya Inn, and the other inn, in addition to aromatherapy café Shima no Hokensitu Kura in a port, promoting mingling with visitors and the islanders.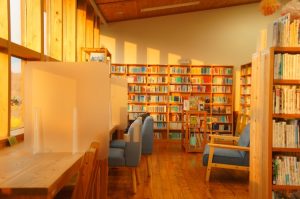 (Photo by Nozomi Katayama)
Although she has only spent half a year in Ama, it seems she has adapted to life in the town. Generous fishermen give her fresh squids, and a tranquil library offers her supreme relaxation after work. One-day trips to neighbouring Nishinoshima Island during her holidays are free from the stress caused by the dense human relations of the town. Above all, the island's natural beauty enchants her.
She aspires to increase the number of islanders, including nurses, who live vibrant lives and embrace the value of travel, not just leisure, to the islands, encouraging people to discover their untapped potential for a new life in the future. Nozomi Katayama's journey has only just begun.