Matsue – On 12th March 2023, Matsue city, the capital of Shimane Prefecture, celebrated St. Patrick's Day. Patrick' is known as a guardian angel of Ireland and is vital for the Irish and Irish roots. Matsue and Ireland have fostered a mutual friendship thanks to Lafcadio Hearn, an Irish-American journalist. He taught English at Matsue Common Junior High School (now Matsue Kita High School) and Matsue Higher Normal School ( now Shimane University). Hearn also introduced the culture of Japanese folktales to the West about 140 years ago. The journalist's works were influential in securing his place in representing Japan in the Western world. He described Matsue as "The Chief  City of the Province of the Gods". Many Matsue citizens enjoyed the Irish festival.
Matsue resumed the fullscale festival this year, and the city was coloured green, a symbol of the Republic of the Irland, to express respect for the Celtic country. Irish flags flew proudly on Kyomise Street, and the bagpipes rang throughout Karakoro park, an exhibition sight, and entertained the attendance.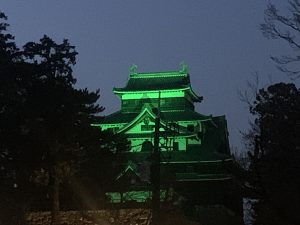 Matsue Castle was illuminated with green.
"I am delighted to see green. Matsue citizens love Ireland, and they warmer welcome (me)," said Anthony Kelly, from Ireland, dressed up as St. Patrick.
Ireland, an island country located next to the United Kingdom, has provided the world with many Irish roots and Guinness. The family name of the heroine of Gone with the Wind, O'Hara, is one of the most common ones in Ireland. The Irish community produced the first Irish descendant of President John Fitzgerald Kennedy. Like O'Hara, both Kennedy and Fitzgerald are also common surnames in Ireland.