Matsue – Frank Sinatra mesmerized audiences with his rendition of "On the Road to Mandalay." If he were still alive, he might have crooned another tune, "Go to Warsaw." Sachi Morimoto, a Shimane native, has a keen interest in Poland and a strong desire to visit the country in Central Europe. The captivating films of Polish maestro Andrej Waida have inspired and fascinated her, drawing her attention to a land far from her own.
Sachi was born and raised in Daito, a suburban area of Matsue, until her high school graduation. After completing high school, she ventured to Osaka for work. However, she found herself ill-suited to the atmosphere of Osaka and quickly returned to her hometown. Upon her return, she began honing her skills as a barista at a chain coffee shop in Matsue. Her exceptional talent caught the eye of a prestigious local café, leading to an exciting opportunity.
While working at the café, Sachi's passion for Poland continued to burn. Finally, in 2017, she had the chance to visit the country. She witnessed demonstrations against former US President Trump during her travels in Warsaw. This journey deepened her understanding of Polish culture and left an indelible mark on her.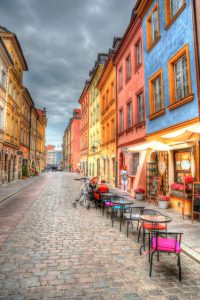 One day in Matsue, Sachi stumbled upon a woman speaking Polish. The woman, enjoying a shopping excursion at a bakery, caught Sachi's attention with her fluent utterances. Astonished to hear the Polish language in her hometown, Sachi impulsively asked, "Are you Polish?" "Yes," the woman replied. She was a true Polish native named Maria. It was rare to encounter someone from Poland in a Japanese town. Maria, who had married a Japanese husband and resided in Poznan, Poland, shared that her husband's illness necessitated a return to his hometown for medical treatment. This serendipitous encounter forged a bond between Sachi and her newfound Polish friend. Maria graciously invited Sachi to her home in Matsue for a delightful tea-filled conversation. It was a cherished and joyous memory for Sachi. She eagerly awaits the day when she can revisit Warsaw, hoping that the grip of the COVID-19 pandemic will finally loosen its hold.