Mihonoseki – The singer, John Denver's most famous song line, was "Almost Heaven, West Virginia," but if he was alive today, his new "Country Roads" hit could be "Almost Heaven, Katae."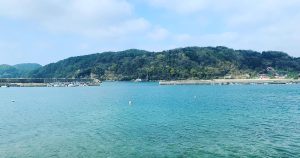 This Japanese jewel is sandwiched between the Miyano mountains and coastline, a bay hamlet, suburban Matsue, and eastern Shimane.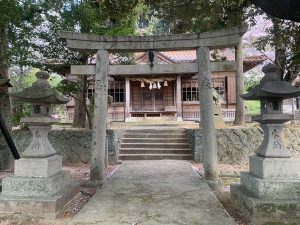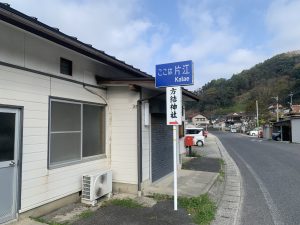 Katae prospered as a fishing locale and was known over western Japan as the home port of an offshore fishery flotilla, mostly just a memory today. The population dwindled to 500 citizens, compared to 4,000 in the 1960s. Many locals left the village, or even Shimane Prefecture, to make a living. Less than 20 inhabitants comprise those in their 60s engaged in fishing today. Shimane's GDP is under 2.7 trillion yen, less than 1% of the nation's business. Leaving Katae or Shimane has become a passport to Japan's economic growth.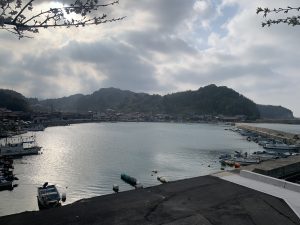 Despite depopulation, the locals want to hand off traditions to the next generations – Katae Sumitsuke Tondo — is the new year's painting of black ink on faces. Many former residents return to the hamlet during the New Year period to enliven the Shinto festival.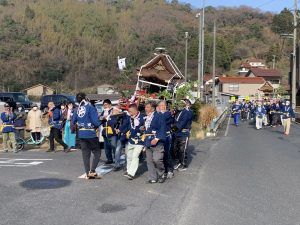 One former resident has a challenging run off his guest house, Katae-an. This guest house is not for ordinary travellers, but for those wanting a priceless experience in a rustic part of Japan.
The most recommended route (total of 3 hours) to the guest house is by All Nippon Air, from Haneda to Yonago A.P. which takes 1.5 hours, then 20 minutes by JR Sakaiminato line or bus to Sakaiminato Station. Visitors should transfer to the Mihonoseki Community Bus bound for Ui Ferry Landing Stage for 10 minutes, then take a 15-minute bus ride to Katae Chuo. Total roundtrip costs are around 70,000 yen.
A slower trip (total of 14 hours) is taking the night sleeper train, the Sunrise Izumo, from Tokyo to Matsue with a private room to see the great views of Japan, then transferring to the Ichibata bus to Mihonoseki Bus terminal. Visitors should transfer to the Mihonoseki Community Bus bound for Ui Ferry Landing Stage for a 15-minute bus ride to Katae Chuo. It costs about 55,000 yen roundtrip ( a bunk bed is half-price).
A more economical way is to ride the budget night bus, WILLER TRALLLE, from Tokyo Station to Matsue Station. Visitors should transfer to the Ichibata bus to the Mihonoseki Bus terminal and then change to Mihonoseki Community Bus bound for Ui Ferry Landing Stage for 15 minutes bus ride to Katae Chuo, which will cost under 20,000 yen roundtrip.
Whatever transport you choose, finding Katae-an is formidable, even if you know what you are looking for, because the guest house looks like many Japanese houses. Unlike other Japanese inns, Katae-an hardly advertises, but word of mouth yields Katae-an guests from  Japan as well as overseas. Prices range from 3,190 yen for a bunk bed in the dormitory to 5,900 yen for a private room (including tax).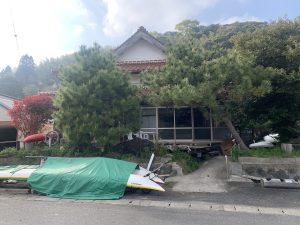 Yuji Aoto, 67, has engaged in international cultural exchange with over 40 nationalities for 40 years. He established his guesthouse Katae-an in 2019 with a mission to offset depopulation, which could make a marginal community if it continues. Aoto was particularly attached to this small village, where he lived from 2003 to 2013 to raise his children. Aoto wanted parents to raise their children surrounded by the nature of Katae, a powerful energy to attract people. His aspiration led to success in crowd-funding to enable the buying and refurbishing of an almost ruined 100-year-old Japanese inn as a modern guest house, an unprecedented project.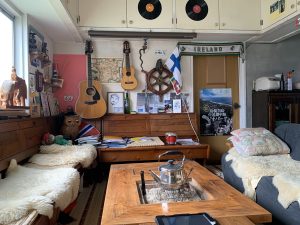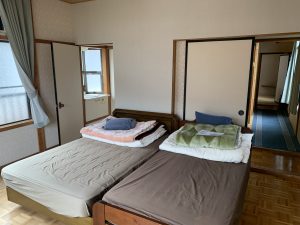 Initially, the guesthouse intrigued foreign travellers hoping to experience a priceless moment in rural Japan. Tourists could enjoy Minshoku — local seafood such as sashimi, fried fish, grilled fish, and fried turban shells, while guests could prepare a dish with locals at their homes. Minshokku offered guests to experience a humble Japanese lifestyle for  3,800 yen for 2 hours per person. The cultural exchange expert thought his business was working well.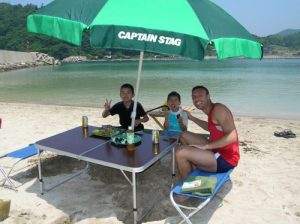 by katate-an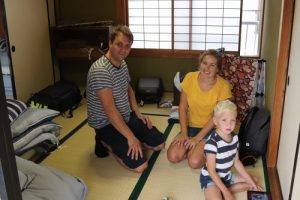 by katate-an 
Yet foreign tourists vanished from Katae-an after COVID-19. Aoto was forced to change his business strategy to attract Japanese travellers. The Japanese government requested establishments refrain from crowding, which awakened a new demand for outdoor activity. Aoto eyed such an opportunity and started training in kayaking.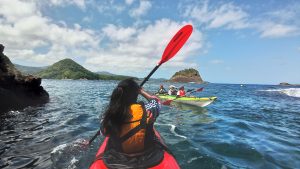 by Katae-an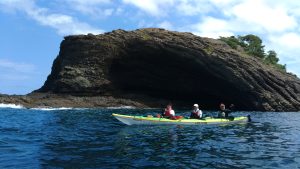 By Katae-an 
Guests can enjoy the sports while seeing stately views guided by Aoto, their instructor in Kayack training, touring the coastline of the Sea of Japan, including caverns and grottoes. It costs 6,000 yen for 2 hours per person.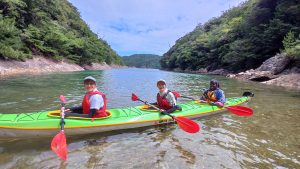 by Katae-an 
They can also enjoy trekking in the Miyano Mountains, part of the National Park. Some interact with other visitors over sake while listening to the guitar played by the owner. Others listen to recorded jazz music while drinking wine that has fermented underwater beforehand for 5,000 yen. Guests can also take memorial photos wearing samurai armour, another unforgettable memory.
Matsue is famous for its tea culture developed by the city's shogun of the Edo period, so a casual tea party is available for 2,800 yen for one hour per person.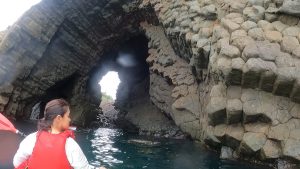 by Katae-an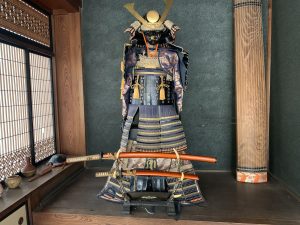 Katae-an is where guests interact with local people and enjoy outdoor activities all in one place. The reopening of inbound travel by the Japanese government makes Aoto expect a tourism boom, so he is renovating some Katae-an rooms. Katae-an offers travellers an overwhelming experience in rustic Japan.
(Written by Takashi Saito)
Guest house Katae-an (HP English)
Tel: 0852-55-8600
How to get to Katae-an
(Another route as above mentioned)
From JR Okayama Station on the Sanyo Shinkansen, take the Yakumo Limited Express to JR Matsue Station (2 hours and a half), then board the Ichibata Bus bound for Mihonoseki Bus Terminal (45 minutes). Transfer to the Mihonoseki Community Bus Shichirui Line and get off at "Katae Chuo" bus stop (12 minutes). 5minitis walk to Kataean from the bus stop.
Prices
Room 1:Private (Japanese Tatami mat room for 4 people)
1 day&night 5,390yen for 1person
1 day&night 9,570yen for 2people
Remark: The prices will rise during Saturday and peak seasons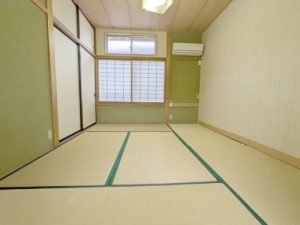 Please check the Kataean website for details.