Kashima – On July 29th, the Etomo Bay in Kashima came alive with a breathtaking display of spectacle fireworks, captivating the hearts of numerous spectators. The annual fireworks festival, renowned for its majestic sky art, celebrated its 10th anniversary, drawing crowds from Koura, Etomo fishing hamlets and many parts of Matsue.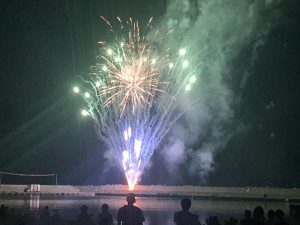 As the clock struck the appointed hour, the much-awaited fireworks extravaganza commenced, filling the night sky with a dazzling array of colours and patterns. Three thousand fireworks were expertly launched above the Koura Fishing Processing Estate, adding an extra grandeur to the festivities.
The Kashima Fireworks Festival has become a highly-anticipated event in the region, held annually at the end of July. This year's milestone 10th-anniversary celebration marked a decade of delighting locals and visitors alike with its awe-inspiring pyrotechnic displays.
The event not only showcases the artistic prowess of the organizers but also fosters a sense of community and celebration among all those who partake in this magnificent spectacle. As the night sky was painted with vibrant hues and intricate designs, the festival undoubtedly etched unforgettable memories in the hearts of all who witnessed its splendour.
(Takashi Saito)
Koura Kashima, Matsue Shimane