Matsue – The much-awaited and celebrated "Suigo-Sai," a summertime extravaganza, has once again graced the cityscape. Drawing its name from the amalgamation of "Suigo," signifying the aquatic essence of the city, and "Sai," a profound nod to the exuberant Japanese festival tradition, this event spans two captivating days(August 5 and 6). It commands the attention of a substantial throng of enthralled spectators.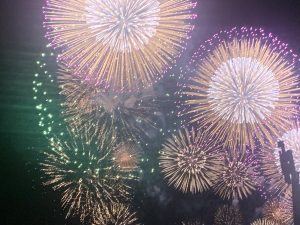 More than a mere display of pyrotechnics, Suigo-Sai is a symbolic convergence of diverse deities at the revered Shinjiko Lake, captivating a diverse audience from Matsue and neighbouring regions.
Suigo-Sai, an annual spectacle, remains firmly entrenched as one of Matsue's most distinguished and premier attractions. It is splendid charm and cultural significance continue.
A breathtaking spectacle unfolded as a myriad of ten thousand resplendent fireworks yesterday ascended into the night sky, casting a mesmerizing glow over the iconic Shinjiko. Anticipation lingered in the air as the sun set, heralding yet another exhilarating fireworks showcase poised to dazzle the lake's shimmering expansion the following day.
As the clock struck the hour of 8:00 PM, an electric transformation engulfed the ambience. The once serene eastern shores of the lake became a canvas for vibrant fireworks that punctuate the night with radiant bursts, evoking audible gasps of astonishment from visitors indulging in their favourite libations.
This year's festivity has marked a triumphant resurgence, a glorious revival, following the sad scales of last year's event due to the unrelenting grip of the Covid-19 pandemic. Undeterred by the sultry embrace of summer, with temperatures soaring at a staggering 30.0°C, the enthusiasm among Matsue's denizens remained unshaken as they wholeheartedly embraced Suigo-Sai's return to its full-fledged glory.