This year 2023, marks the 12th anniversary of the Great Tohoku Earthquake. This short story is based on the writer's memories. Shimane was considered irrelevant to the earthquake, but that was not true. This story tells you how the quake affected the rural Japanese worker.
In 2011, Takashi Saito, a 30-year-old contract trading staff, worked for Mitsubishi Agricultural Machinery, which was a member of the famous Japanese Mitsubishi conglomerate, in a suburb of Matsue, Shimane Prefecture.
He worked for the company as a temporary worker. His English capability allowed him to be engaged in the firm. Big Japanese companies prefer hiring new graduate students to job changers, so he was very proud to wear the Red Diamonds mark (the symbol of Mitsubishi), although he was of a non-regular status.
March 11, 2011, was a bit warm for the month. He returned to his desk after lunchtime and resumed his tasks. While contacting his foreign counterparts to discuss shipping parts of agricultural machinery to meet the assembly deadline, he planned how to spend his weekend because it was Friday. The beginning of March climate told him Spring was coming.
Before 3:00 pm, a colleague sitting beside him whispered, "A big earthquake happened in Tohoku." Takashi soon took his smartphone, opened a news bulletin, and grasped what had happened. He and his colleagues stopped their business.
After a while, his colleague said, "look at this," while pointing at his cellphone screen streaming NHK's (Japanese public media) live report. It aired a giant, spine-chilling tsunami, the size of which no one had ever seen, approaching the Sanriku Pacific Coast in Miyagi Prefecture, part of northeastern Honshu. The dark monster engulfed what existed on the display, like a movie. The report was so shocking that everyone lost their words.
Suddenly, a telephone rang, and the colleague answered, shouting, "The warehouses in Tagajyo were devastatingly damaged, and one staff we cannot contact!" It was the first time Takashi had heard such a word except in a movie or drama. The company had huge warehouses in Tagajyo, Miyagi Prefecture, housing tractors, combine harvesters, and cultivators to ship to Noth America and Europe. Fortunately, the company did contact the missing man later.
The world media such as CNN, BBC and CCTV covered the earthquake, so Takashi received many emails from his overseas counterparts (Italy, Thailand, China and South Korea) to confirm his safety. In fact, the epicentre off Miyagi was far from Shimane, so clients unfamiliar with Japan might associate it with destroying all Japanese lands. However, Takashi's home in western Japan was subject to little influence by the earthquake. He was so busy replying to them that he could not find time for himself after 5:00 pm. His iPhone displayed the name of the earthquake: Great East Japan Earthquake.
Around 7:00 pm, he left the company uneasy about what would happen in Japan. While listening to NHK's emergency program that told its listeners about the nuclear accident – the tsunami caused radiation leakage in Fukushima Prefecture and the untold quake death toll, Takashi drove home without stopping any place on a chilly night. On arriving at his house and turning on the TV, he watched live coverage of a burning industrial complex in Chiba (adjacent to Tokyo). It looked like hell. "Oh my god," he said to himself.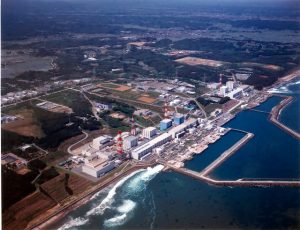 On March 12, all TV channels broadcasted the earthquake, and such a TV world absorbed Takashi. The scene of cars and ships swallowed up by the devastating tsunami was repeated by CNN all day. The Fukushima nuclear plant's explosion impacted him because his hometown also had nuclear plants like Fukushima. His local newspaper, San'in Chuo Shimpo, captured the picture of a big, horrible tidal wave with a serious title. He could not help praying it never happened. Another earthquake happened in the central area of Honshu, but it was on a minor scale.
On March 13, a TV channel broadcasted lives that some Tokyoites could not return home on account of a massive blackout. All media stations continued to cover the earthquake. Takashi kept listening to NHK's radio instead of watching TV to avoid becoming an arm-chaired victim who suffered from watching too many crisis scenes.
An emergency meeting was held on early Monday morning at his office. The company told its employees that the earthquake disrupted its supply chain and forced it to stop making products. Someone said with a gloomy voice, "A considerable debt can be estimated."
After the meeting, he opened his email account, which had received myriad get-well messages from foreign countries, responding to them one by one. He briefed them that his headquarters was OK, but the warehouses in Tagajyo were wrecked.
After the Tohoku Great Earthquake, Mitsubishi Aguricaltual Machinery recorded a devastating deficit, the first since it was established, so much so that the company could not maintain its business scale, dismissing many workers, including Takashi.
The Great East Japan Earthquake affected not only the epicentre but also the rest of Japan. Takashi was made to change his life by the quake, and it was an unforgettable life event.
(Edited by an writing instructor at Temple University Japan)