Yonago, Tottori –  Japanese fish consumption is said to have fallen since the 1990s, according to the Japanese Fisheries Agency, but it may not apply to Yonago, part of Tottori Prefecture adjacent to Shimane. A Shimane-born Izakaya pub manager, Kenichi Takai, 42, serves mackerel shabu-shabu as a special dish of Yonago, trying to attract many gourmets to his modern Japanese Izakaya pub, Yuraku. The establishment has a calm atmosphere that lets guests relax.
Yonago's 150,000 population lives in a commercial city located in the San'in area of Shimane and Tottori prefectures. The city is 1.5 hours by air from Tokyo (Haneda Airport), seven hours by bullet train or railway, and 10 hours by night sleeper train (the Sun Rise Izumo). Yonago had flourished as a central commercial city of San'in, enticing many shoppers. With alluring brand fashions and other items, visiting Yonago had become a special event for teens, even from as far away as Matsue, Izumo, and Tottori until the advent of e-commerce. However, the city lost some vitality with the pandemic and on-line shopping boom. This caused Takai to become concerned about Yonago's future, so he decided to revive Yonago using his mackerel shabu-shabu.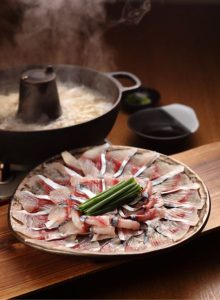 After graduating from Matsue Technical College and working for TOSTEM, a famous door company, Takai changed his career and entered the restaurant industry. His 20 years of experience in the eatery world has enabled him to be an independent owner of Yuraku, which opened in front of JR Yonago Station in 2019.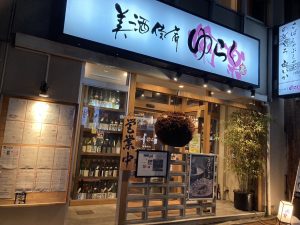 Unfortunately, the outbreak of COVID-19 damaged Yuraku, and Yonago's amusement area. Takai thought Yonago needed to produce its new famous cuisine to energise the city, so mackerel was chosen as its key ingredient. Initially, mackerel shabu-shabu was on Yuraku's common menus, like Iwagaki oysters, squid and Helicolenus (Nodoguro), Yonago's noted marine products. He did not expect much popularity for mackerel shabu-shabu at first, but it sold well, with about 30 sets daily and 8,900 annually in 2022.
Mackerel shabu-shabu contributed to reviving his Izakaya. Rival pubs in the city followed Takai's mackerel shabu-shabu, and the Yonago Commercial Chamber of Commerce supported Takai's challenge in its branding strategy, "Love Yonago Branding Projects." Takai's mackerel shabu-shabu was so well-reputed to be chosen as a thank-you gift for a tax reduction given to those who donate to Yonago City, selling all 150 packs in 2021.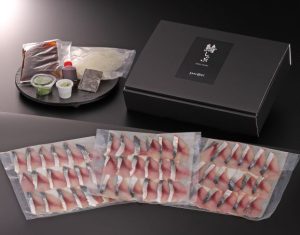 Mackerel Shabu-shabu for delivery for 3 service
Mackerel is a common Japanese taste, grilled and boiled with salt and miso. However, the fish becomes an even higher-quality food with Takai's mastery. Dipping in soup boiled with ponzu sauce and slices of onion, guests can fully savour the taste of mackerel. One is regular mackerel shabu-shabu consisting of farmed fish, while the other is fresh wild fish as high-grade shabu-shabu. Takai's mackerel shabu-shabu is quite delicious, and this writer has never eaten such delicious food. Guests can also enjoy soba as a final dish, and the buckwheat soba is cultivated near Yonago and called Daisen Soba. Mackerel nigiri sushi is also a special flavour, but Takai's mackerel shabu-shabu is the top recommendation.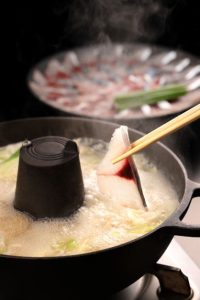 Mackerel Sbabu-shabu \1,380 (deduction tax) for 2 guests
To live up to expectations, Takai is enthusiastic about mackerel shabu-shabu becoming Yonago's most famous local cuisine at Yuraku.
How to get to Yuraku (Japanese website)
227 Meiji-machi Yonago,Tottori
TEL 0859-21-2602
From JR Okayama Station on the Sanyo Shinkansen, take the Yakumo Limited Express to JR Yonago Station (2 hours), then walk 5 minutes to the Izakaya.
Business day & Time
Monday – Saturday (Sunday closed)
4:30 PM–24:00 PM
Dinner 4,000-4,999JPY
Credit cards
VISA, JCB, Diners, AMEX, MASTER
Electronic money
SUica , nanaco, WON,iD
QR code
PayPay, d,au PAY
Menu 
For 2 guests
・Mackerel Sbabu-shabu \1,380 (deduction tax)
For 1 guest
・Onion Ring \480  (deduction tax)
・Crab Cream Croquet \680  (deduction tax)
・Mayonnaise Corn Gratin \580  (deduction tax)
・French Flies(Chips) \380  (deduction tax)
・SuShi Plate \1,250  (deduction tax)
・Mackerel Sushi \780  (deduction tax)
・Fried Chicken \780  (deduction tax)
・Soy Marinated Cream Cheese \580  (deduction tax)
・Snow Crab Potato Salad \680  (deduction tax)
・Prosciutto Caesar Salad \680  (deduction tax)
・Chicago-style Pizza(Tomato and cheese)  \1,480  (deduction tax)
・Broiled chicken \1,250  (deduction tax)
・Asahi Super Dry 350ml \205  (deduction tax)
・Cocktail of Japanese Spirits: lemon, grape, or peach flavours (made by Asahi beer) \ 141 (deduction tax)
・Junmai Dai Ginjyo: Super premium sake made only from high-grade polished rice and rice  koji(Toyo Bijin) 180ml \680  (deduction tax)
・Kodo-Ichizu, Junmai Ginjyo: Sake made only from highly polished rice and rice koji (Toyo Bijin)720ml \2,200  (deduction tax)
・Soft drinks: ginger ale, orange juice, oolong  \150  (deduction tax)