Taisha, Izumo – Although Japan is referred to as a country of the rising sun on the world map, Izumo, a part of Shimane, is associated with the sun's setting. The sun's setting brought a holy shrine, Hinomisaki Shrine, to Izumo. The shrine was established in 948 by imperial order issued by an Emperor of the time in order to worship Japan's night side or the yin. This means Hinomisaki Shrine is the counterpart of Ise Shrine – the most prestigious shrine in the Shinto world – honours the sun rising or the yang. According to a Japanese myth, Ise and Hinomisaki guard Japan using their manifestation barrier.
In 1644 the existing structure of Hinomisaki Shrine was completed and has been enshrined since then. The shrine's appearance has been so graceful as to attract many visitors, even though the shrine exists in the remort corner of the Shimane peninsula. The holy place has been called "Misaki san", which means Mr. shrine, for a long time. Hinomisaki Shine prays for Japan's and the world's peace and quiet.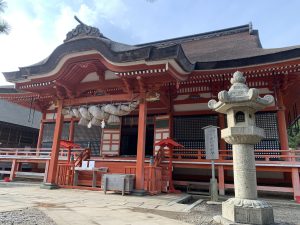 The shrine is also known for its unique good-luck charm called "a sand charm." The charm is said to do good for a get-well wish. The charm is popular among Japanese people, so much so that those who wish for their loved ones to recover from an illness come to Hinomisaki all the way from all over Japan.