Matsue – Shogo Ehara, a Matsue resident, runs a rental bicycle business (TRIP SPICE) for tourists. His high-grade bicycle(DAYTONA) and skilful guidance are so excellent as to get a good reputation from its users. The bicycle riders can enjoy seeing the captivating views of Matsue, where the city is known for its bountiful beautiful sights. The authentic sceneries of Matsue steep them in the nice atmosphere of the water capital. The Matsue's seasonal spectacles provide the rider with a precious memory.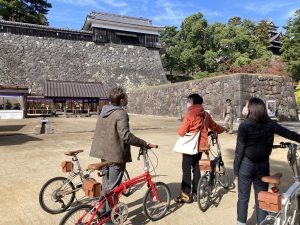 Shogo was born in Shimane, but the idyllic scene of the rural area discouraged him from maintaining a motivation to live in the prefecture. Entering a university in Tokyo made him Tokyoite. Having graduated from the university, he stuck to live there, working for a famous big Japanese company on the weekday on the one hand and enjoying his hobby of cycling on the weekend on the other. This was the typical lifestyle of the Tokyoite, and he was content. He planned to spend his whole life in Tokyo as an elite company employee. Yet he changed his mind because of knowing the enchanting Shimane entrepreneurs in Tokyo. This event brought him an entrepreneurship course held in Tokyo, returning to Shimane to start his current business.
His business did well before the pandemic, but the spread of the covid-19 and its state of emergency all over Japan prevented tourists from visiting Matsue, suspending his business and forcing him to despair. While experiencing a difficult situation, he maintained his business because he had had the purpose of his business to let his friends who live in Tokyo come to Shimane smile. Challenging environment caused by the pandemic, his business tends to recover from the bottom. Shogo Ehara's challenge continues.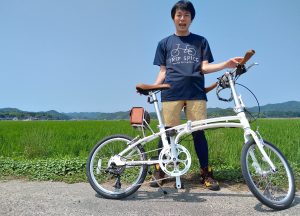 TRIP SPICE (English available)
1-F SUETSUGU
5 Suetsugu-Cho Matsue, Shimane
690-0846