Sakaiminato, Tottori – MSC Bellissima, a colossal cruise ship with a gross tonnage of 171,598 and a span of 315 meters, came alongside at the Sakaiminato Yumeminato Ferry Terminal on July 7, from the last port of call Fushiki Toyama, arousing the interest of many locals.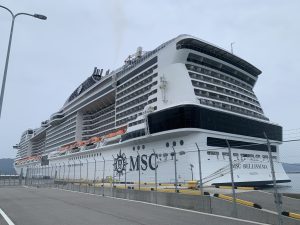 The vessel christened after the Italian word for "gorgeous" and named by the actress Sophia Loren, is operated by the Mediterranean Shipping Company based in Europe. It traversed all the way to Japan to voyage around the archipelago with grace. Sakaiminato was one of its destinations.
The passengers relished exploring the tourist attractions of the San'in region (Tottori and Shimane Prefectures), and she is scheduled to call in Busan, Korea.
The demand for cruise ships plummeted due to COVID-19 in that the inside of the vessel was considered vulnerable to infectious diseases. However, the need is soaring after COVID, so port sales, especially Japanese countryside, expect much for cruise ships.
Takashi Saito