Matsue – Mark your calendars for the highly anticipated Suigo-Sai Fireworks Festival, set to illuminate the night skies on the 5th and 6th of August. Renowned as the pinnacle of fireworks excellence in Western Japan, Suigo-Sai is an annual spectacle that epitomizes the essence of summer in Matsue. Derived from the combination of "Suigo," meaning the water city, and "Sai," symbolizing a vibrant festival in Japanese tradition, this grand event promises to immerse attendees in a symphony of dazzling pyrotechnic displays.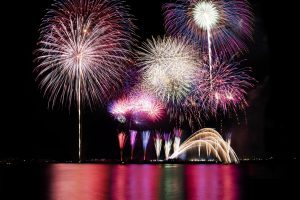 Prepare to be mesmerized as a staggering twenty thousand fireworks, meticulously choreographed to perfection, grace the heavens above Matsue each night, with an impressive ten thousand shots scheduled for each evening's performance. This year, without anti-COVID-19 regulations, spectators can witness this awe-inspiring spectacle without restrictions. For those seeking a more leisurely viewing experience, paid seating options allow enthusiasts to recline comfortably while admiring the unfolding celestial artistry.
Adding to the vibrant ambience, charming roadside stalls will line the event grounds, enticing visitors with a delightful array of delectable treats and captivating souvenirs. Indulge in the enticing aromas and lively atmosphere as you explore these vibrant stalls, creating unforgettable memories during this enchanting summer celebration.
For more inquiries, you can ask the Matsue Tourist Association.