Mihonoseki – On December 3rd 2022, one of the Shimane's important Shinto ceremonies, the Morotabune Shinji(諸手船神事), was held at Mihonoseki Fishing Port and Miho Shine(美保神社), dedicating the deity of good fish fortunes. To play for a large catch and abundant harvest, the local oarsmen wearing traditional clothes, called Ujiko(氏子), rowed two small boats in the bay of Mihonoseki, watched by many spectators. They gallantly shouted in rhythm to their strokes, splashing seawater in the cold.
This ritual derives from Kojiki(古事記), Records of Japanese Ancient Matters, written 1,300 years ago. It said during the competition for dominance by two gods sides, heavenly gods(天津神) and land gods(国津神), the delegation of the heavenly gods negotiated with the deity of Mihonoseki, who represented the land's goods, on whether the lands accepted a summons of surrender by the heavens at Hihonoseki Bay. Morotabune Shinji restages the scene.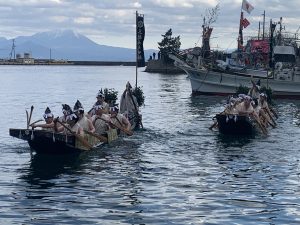 Morotabune Shinji is held every December 3rd.
How to get to Mihonoseki
608 Mihonoseki, Mihonoseki-cho, Matsue-shi, Shimane-Prefecture
By rental car(Recommend)
It takes 40 minutes from the JR Matsue Station to Mihonoseki through Rute 431 and prefectural road 2.
By Bus
then board the Ichibata Bus bound for Mihonoseki Bus Terminal (45 minutes). Transfer to the Mihonoseki Community Bus Mihonoseki Line and get off at "Mihonoseki"bus stop (30 minutes).
Remark: You are required to understand Japanese if you choose this way.