MATSUE – In the western part of Japan lies a city that boasts a rich and colourful history. Matsue, the capital of Shimane Prefecture, was once the seat of power of the Matsudaira clan, a branch of the Tokugawa family that ruled Japan for over 250 years during the Edo period (1603-1868). The legacy of these feudal lords can still be seen and felt in Gessho-Ji Temple, where they are buried and honoured. The temple is also a popular spot for admiring the hydrangeas that adorn the temple grounds in June and July, adding a touch of beauty to the solemn atmosphere.
Thanks to Japan's efficient and convenient transportation system, getting to Matsue is not difficult. The Sunrise Izumo sleeper train offers a 12-hour ride from Tokyo to Matsue Station, with private cabins and scenic views, for those who want to savour the journey. The roundtrip ticket costs about 50,000 yen ($450), with a cheaper bunk bed option available. The Bullet train is a good choice for those who prefer speed and comfort. The trip takes about eight hours, with a change at Okayama Station to the Local Limited Express Yakumo, which goes to Izumo Station. The roundtrip fare is below 40,000 yen, making it an affordable and convenient option.
Visitors can take a bus or a taxi from the station to Gessho-Ji Temple, about 15 minutes away. Alternatively, they can rent a bicycle and enjoy the scenic ride along the lake and the castle.
Gessho-Ji Temple was built in 1664 by Naomasa Matsudaira, the first lord of Matsue and a relative of the Tokugawa shogun who unified Japan under his rule. Naomasa was a brave samurai who fought in the Siege of Osaka Castle in 1614-1615, a decisive battle that cemented the Tokugawa Shogunate. He was appointed by the Tokugawa government as the ruler of Matsue in 1638, in charge of governing Izumo Province. His tomb can be found within the temple grounds, surrounded by a moat. A striking tiger painting decorates the entrance gate, a sight worth seeing. His descendants continued to maintain and expand the temple until the Meiji Restoration in 1868, when the shogunate was overthrown, and Japan modernized. Although the temple's main hall was demolished during the anti-Buddhist campaign of the new government, the temple still retains its hallowed ambience and historical significance.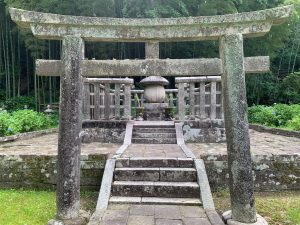 Harusato Matsudaira was the seventh lord of Matsue. His tomb is next to Naomasa's, and features grapes, his favourite fruit, on his gate. Visitors can see Matsue Castle from a spot in front of his grave. Harusato initiated various reforms to revitalize Matsue, which was facing an economic crisis back then; as a result, the city could overcome its financial difficulties and improve its living conditions. He also contributed to developing several noted products such as ginseng, cotton, and Toxicodendron succedaneum. Harusato is known as Fumai, his tea ceremony name, so much so that he created his own tea school, Fumai-ryu, which still exists.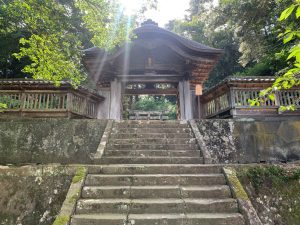 A curious stone figure attracts visitors' attention within the moat belonging to Munenobu, the sixth scion of the Matsudaira lineage. It looks like a turtle supporting a stone pillar but reveals its true form as a dragon. Lafcadio Hearn, a famous writer who lived in Matsue in the late 19th century, introduced this mysterious stone figure as an evil turtle in one of his stories. According to the lore, the pillar was placed upon the turtle's back to restrain its wicked intentions.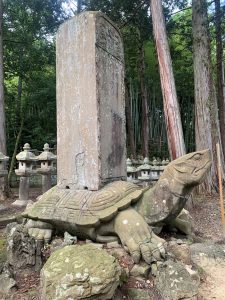 Gessho-Ji Temple is a popular destination for locals and tourists, offering a glimpse into its rich history and culture. One of its highlights is the splendid display of hydrangeas that bloom in various colours during June and July, contrasting with the ancient stone monuments and tombs. The hydrangeas are said to have been planted by the wives and concubines of the Matsudaira lords, who expressed their sorrow and longing through these flowers. The temple grounds are filled with about 10,000 hydrangeas of different varieties, making it one of the best spots to enjoy this seasonal spectacle in Japan.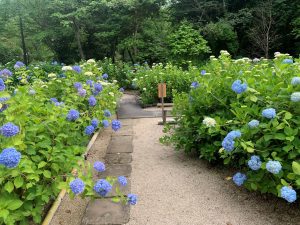 Matsue is a city that offers a unique blend of beauty and history, and Gessho-Ji Temple is a place that showcases both. It is a place worth visiting for anyone who wants to experience the timeless allure of Japan and its people.
(Takashi Saito) 

179 Uchinakahara, Matsue
How to get to Gesssho-Ji
From JR Matsue Station, visitors should take Matsue Lake Line Bus or the Matsue-shiei bus bound for Kita-jyunkan and then get off at the Gessho-Ji Iriguchii Bus Stop(15 minutes). A building of the school in front of the bus stop will be a landmark.
Business hours
10:00 am – 4:00 pm(Tea lounge 10:30- 5:30 pm: Green tea with Japanese confectionery ¥500 per person)
Admission is allowed by 30minits before the closing time in all seasons.
Fees
¥500 for Adults
¥300 for Junior and high school students
¥250 for Elementary school students
Several discounts are available; Kindly contact to gesshoji@tx.miracle.ne.jp