Tamatsukuri – Surrounded by beautiful hills in a basin adorned by a flowing river, Matsue's best tourist resort, Tamatsukuri, enchants visitors with its rich history spanning 1,300 years and several hot spring inns. The town is especially famous for its breathtaking row of cherry blossom trees, casting a magical spell during the spring season. It is no wonder that Tamatsukuri has become a magnet for artisans seeking inspiration.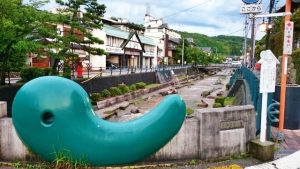 One such artisan is Minako Tanaka, affectionately known as Minamin, who has mastered the art of amigurumi – the creation of small stuffed animals. Her delicate masterpieces have earned her acclaim and captivated the hearts of countless amigurumi enthusiasts.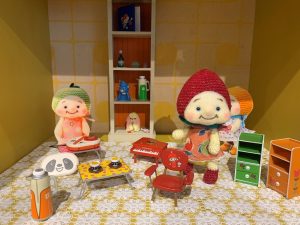 Within the walls of Tamatsukuri Art Box, a former Japanese inn transformed into a vibrant commercial complex, Minamin curates her own select shop. This unique venue houses five different shops, including a souvenir shop, café, massage parlour, kimono rental shop, and Minamin's cherished store. Inside, visitors are treated to a delightful collection of kawaii (cute and retro) items. Glass cups adorned with beloved anime characters, elegant tableware sets, and whimsical knick-knacks sourced from European and Asian countries adorn the shelves. The store's relaxed and nostalgic ambience irresistibly beckons customers, drawing them into a realm of fond memories.
Minamin explains, "Showa-ish ( the period between 1926 and 1989 ) holds a special allure for younger generations, particularly Generation Z, as the designs from the Showa era differ significantly from contemporary styles. This fusion of past and present captivates the imagination and fuels creativity."
Although Minamin was born and raised in Matsue's castle town, her journey to becoming a craftswoman took an unconventional path. She explored various creative pursuits in her youth, from knitting and drawing to writing poetry. However, her career initially led her to the bustling city of Osaka, where she worked as an office lady, embracing a hectic lifestyle that allowed little time for artistic endeavours. Nonetheless, she dabbled in nail art, try showcasing her ingenuity even amid a busy schedule.
A decade later, Minamin found herself in Hyogo, feeling a profound sense of loneliness and disconnection from her hometown. She searched the internet for solace, finding an amigurumi website that sparked a newfound passion. Upon returning to Matsue, Minamin delighted the town with an array of plush toys, each lovingly crafted by her own hands.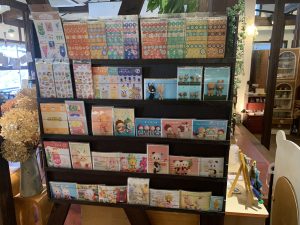 "The true essence of knitting amigurumi lies in sculpting a three-dimensional figure from a single thread, experiencing the thrill of unveiling the final form only upon completion. It is both a challenge and a source of exhilaration," the artist shares.
Minamin's captivating story weaves its spell over customers, bringing an artistic breeze that infuses Tamatsukuri with a renewed sense of wonder and creativity.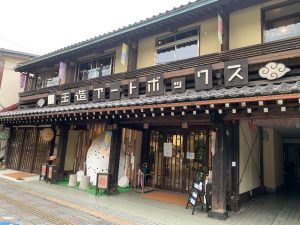 2F Tamatsukuri Art Box
1241Tamatsukuri,Tamayu-cho
Matsue, Shimane
690-0201
Tel 0852-67-5050
How to get to Minamin's Select Shop
From JR Okayama Station on the Sanyo Shinkansen, take the Yakumo Limited Express to JR Tamatsukuri Onsen Station (2 hours and 40 minutes), then transfer to the Ichibata Bus Tamatsukuri Line and get off at "Onsen-Shita" bus stop (4minutes).
Business day & time
Monday – Sunday (Thursday closed)
2F Minamin's Select Shop 10:00-5:00 PM
1F Souvenir Shop 9:00 AM-6:00 PM
VISA、MasterCard、JCB、AMEX、銀聯、DISCOVER、Diners Club
Suica、PASMO、QUICPay、iD、nanaco、WAON、Rakuten Edy、PayPay、LINE Pay