There are outstanding businesswomen in Shimane. A famous proprietress of a Japanese-style inn exists in Yasugi city. A famous designer also does her unusual business in Iwami-Ginzan(Iwami-Silvermine). Moreover, A up-and-coming entrepreneur is operating her microbrewery in Masuda. These women utilize their unique ideas to create added value in Shimane, revitalizing their local businesses.
Mika Obata runs her Japanese-style inn called Chikuyo in Yasugi. Her inn is located by the local landmark in the area, the ADACHI MUSEUM OF ART, famous worldwide for its Japanese-style garden. The Japanese hotel has been run for 61 years. Ms Obata first worked for a local financial institute. When she got married to the inn owner, she became a proprietress. Chikuyo had so few customers that the servers could dine out even at lunchtime on those days. She planned her business strategy to escape such a problematic situation. She learned a local folk song, Yasugibushi, to attract travellers and to teach it to them. This strategy bore fruit, and Ms Obata and her hotel focused on local newspapers, magazines, and broadcastings. She became famous as the dancing Yasugibushi proprietress.
What is more, she started to serve healthy food to her customers. This service got an excellent reputation and increased customers and sales. Chikuyo is now famous for its hot spring, Yasugibushi, and healthy food.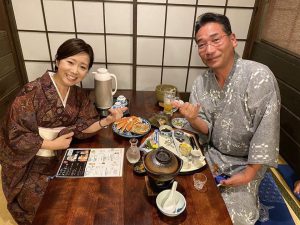 Tomi Matsuda is a designer, and her company Gungendo is known all over Japan. She moved to Omori, Oda, 40 years ago due to her marriage. The Omori area thrived in the Edo period, but the place was about to ruin in the late 1980s. Nevertheless, she started to sell small homemade items to her neighbours. She got an old-village -merchant's house to set up her flagship store in Omori. She devoted herself to developing her Gungendo brand, and 18 years later, the brand name has known all over Japan. Her business started from zero, and now her shop deals with apparel, cafes, and real estate today. Its sales figure roaches approximately 2 billion yen and employ 195 staff today.
Mari Uetoko runs her small craft beer factory in Masuda. She was born and brought up in Fukuoka and became a public servant in Tokyo. An acquaintance's introduction helped her move to Masuda to make a living after returning from public service. She established her microbrewery Takatsugawa River Beer in June 2020. She received an award at a significant startup-business competition this year, and this award brought her many customers. She hopes to make a giant beer factory than it is today in the future and is eager to start a consulting business for craft beer companies.
Shimane has excellent businesswomen, such as the proprietress in Yasugi, the designer in Oda, and the craft beer master in Masuda. This newspaper expects these women will develop their businesses further in the future.
Written by Takashi Saito
Corrected by Dr Ayumi Mishiro(D.Litt  University of St Andrews)