Nishino Shima – The writer enjoyed traveling to Oki islands, where the islands are off the shore 50km away from his house located in Matsue, last summer. The last August's temperature was so muggy (more than 35.0 C°, humidity 75%) as to beckon him to Oki Islands.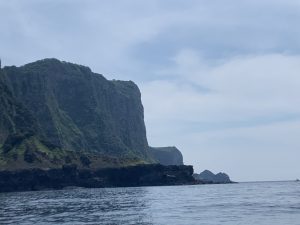 Visiting the islands needed taking ferry boats or airplanes, the writer chose the ferry boat. The ship ferried many passengers, who seemed to come from outside of Shimane in order to avoid being infected with the covid-19 in urban areas such as Tokyo, Osaka, and Nagoya, to the islands. These areas never attracted travelers then. Before the infectious disease, the writer had often visited Tokyo in the summer, but he could not help but stay in Shimane in the summer of 2021. His decision was also brought by his Burmese friend. She was born in Yangon, albeit living in Shimane. She was eager to land on the islands so that she could feel the atmosphere of Japanese rural areas, then engraving in her memory. Her desire to visit the islands turned the writer's lazy mind into taking the one-day trip to Oki Islands. Although the excursion was a bit busy schedule, worth visiting the Islands.
The exciting trip enabled both the writer and the Burmese woman to experience extradentary life, even though they lived in Shimane, which was often said as the boring rural side. Yet the countryside brought them an impressive memory which they never forget in their life.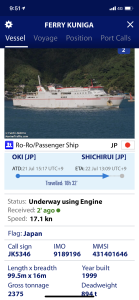 The Ferry to Oki Islands