Soft contents are popular among Japanese municipalities, and Yuru Kyaras, mascots, have enhanced images of the cities and towns in Japan.
Shimanecco, one of the Shimane prefectural mascots, ranked the top popularity in Chugoku regions, according to a Nikkei Newspapers survey.  The mascot puts on Izumo Taisha Shrine's roof on his head. He has attracted hot glances from not only Shimane people but also many Japanese and foreigners. Once Shimanecco posts his comments, many followers pay close attention to what he said.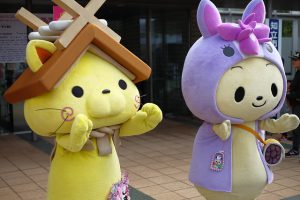 Although the copyright of the mascot belongs to the prefectural office, many shops in Shimanne can use the image of Shimanecco free of charge to promote their sales.
The reporter has experience of working for the prefectural office as a part-time worker at the beginning of 2010. He saw the costume of Shimanecco at a department of the prefectural office back then. He never thought that the mascot cat would become famous like this.