SAKAIMINATO (TOTTORI) –  Sakaiminato is a vital maritime gateway nestled in the picturesque San-in region that spans Tottori and Shimane Prefectures. It hosted the grand arrival and departure of the illustrious cruise liner, AsukaⅡ (飛鳥Ⅱ) yesterday.
This elegant vessel, boasting an impressive length of 240.96 meters and a tonnage of 50,142, proudly serves as the flagship of Japan's cruise fleet and is expertly operated by Nippon Yusen Kaisha Co., Ltd., a renowned leader in Japan's maritime transport.
The sun-drenched morning of Asuka Ⅱ's arrival at Sakaiminato Ferry Terminal at 8:00 a.m. marked the commencement of an exciting journey for all 474 passengers eager to explore the renowned tourist attractions of the San-in area.
Upon passengers back from the activity, the ship departed for Kanazawa at 5:00 p.m. The vessel was bid farewell with a mesmerizing dance performance by Yonago City's traditional dance group and was sent off by people waving the UW flag—a universal symbol of well-wishes and safe voyages.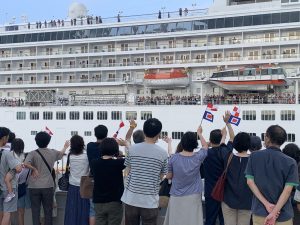 Sakaiminato, affectionately known as the "Main Sea Gate of the San-in Area," plays a pivotal role in advancing inbound tourism endeavours. This vibrant port city welcomes tourists and visitors, significantly contributing to the local economy while bolstering the tourism industry.
With a population of 32,500, Sakaiminato is conveniently accessible. It is just 1.5 hours by air from Tokyo (Haneda Airport), seven hours by bullet train or railway, and 10 hours by night sleeper train (the Sun Rise Izumo) and Sakaiminato Line.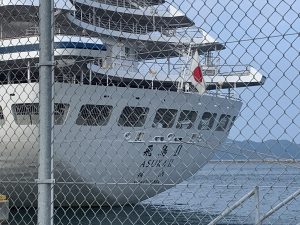 (Takashi Saito)
Sakaiminato YUme Minato Terminal