MATUE – Suirourou, a lantern festival, is set to grace Matsue's weekends from September 23rd to October 15th, lighting up the evenings from 6 pm to 9 pm at Matsue Castle and its neighbourhood. This ethereal festival invites attendees to enter a realm of illusionary lights, where they can immerse themselves in a sea of enchantment. Suirourou attracts travellers with its captivating lanterns, each casting a mirage-like glow that mesmerizes those who come to admit more beauty.
Matsue Castle, a national treasure and the pride of Matsue, the capital of Shimane Prefecture, preserves the city's ancient elegance. Around the castle, a harmonious grid of shrines, temples, and houses reflects the city's careful planning. Matsue, also known as the "City of Water", has many canals and bridges, and offers boat tours inspired by Venice, Italy.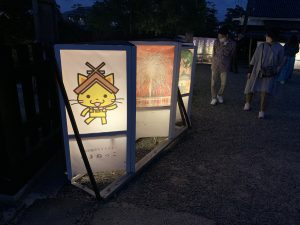 There are various ways to travel to this charming city. The fastest and most convenient option is to take a Japan Airlines (JAL) flight from Haneda to Izumo Airport, which takes only 1.5 hours. Then, a 35-minute bus ride will bring you to JR Matsue Station. The roundtrip cost for this option is about 70,000 yen.
If you prefer a more relaxing and scenic trip, you can take the overnight sleeper train, the Sunrise Izumo, from Tokyo to Matsue Station. You can enjoy the beautiful views of Japan from your private room, which costs 45,000 yen for a roundtrip. You can also choose a bunk bed for half the price.
Another option is to take the bullet train, or Shinkansen, from Tokyo Station to Matsue Station via Okayama Station. You will need to transfer from the Shinkansen to the Local Limited Express Yakumo at Okayama Station bound for Izumo Station. This option takes about 8 hours and costs less than 40,000 yen for a roundtrip.
Matsue Castle awaits your visit with its historical splendour, promising a memorable experience in this fascinating city.
(Takashi Saito)
| | | | | |
| --- | --- | --- | --- | --- |
| Transportation | Time required | Distance | Fee | Remarks |
| Walking | About 30 minutes | About 2.4km | Free | From Matsue Station, cross Shin-Ohashi Bridge, go through Kaji-bashi and Kencho-mae intersection, and arrive at Matsue Castle Otemon Gate |
| Bus | About 10 minutes | About 2.1km | 200 yen | From Matsue Station, take the Lake Line Bus and get off at Matsue Castle "Otemae" |
| Taxi | About 8 minutes | About 2.3km | About 1,000 yen | The taxi fare from Matsue Station to Matsue Castle is about 1,000 yen |
| Private car | About 10 minutes | About 3.5km | Parking fee only | There are some paid parking lots around Matsue Castle |
 How to get to Matsue Castle