Kashima – On 23rd November 2022, Sada Shrine(佐太神社) was crowded with many visitors hoping for good luck from across Japan during its festival called Oimisan(お忌みさん).
Myriads of gods and deities came to Sada Shrine because the Izumo area(出雲), a part of the east side of Shimane, including Matsue, took place Japan's pantheon summit held every October according to the lunar calendar, called Kamiari Month(神在月).
According to local folklore, it said hundreds of thousands of gods (Yaoyorozu no Kamigami) come to Izumo to attend the conference, which is the origin of the month. The other parts of Japan are called a few existing gods and deities (Kanna Month 神無月). The month has the gods and deities gather in Izumo to discuss how to develop their citizen's god for fortune and to match marriage partners for the month.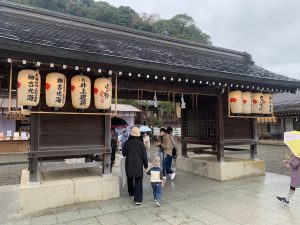 Sada Shrine, the second most prestigious Shrine in Izumo, has become one of the important holy divine service places, followed by Izumo Grand Shrine(出雲大社)in the month. Myriads of gods and deities drop by and stay to shake off the tiredness caused by their long trip. Having filled with gods and deities, human beings are prohibited from approaching the main shine by means of setting a limit made by sacred straw ropes, or Shimenawa(しめ縄).
The spiritual atmosphere created by the gods and deities has been familiar to local inhabitants for a long time. Sada Shine is well worth seeing.
How to get to Sada Shrine 
You can ask how to get to Sada Shrine at tourist information adjacent to JR Matsue Station
By rent car (recommend)
15 minutes drive takes you to the shrine from JR Matsue Station
35 minutes drive takes you to the shrine from Izumo AP
10 minutes drive takes you from Matsue Onsen Station of Ichibata Train to the Shrine
By bus( requested the Japanese language)
Ichibata Bus takes you to the shrine from JR Matsue Bus Terminal, needing  25 minutes