A mesmerizing and vibrant café emerges by the enchanting shores of Shinjiko Lake, captivating the hearts of sunset spectators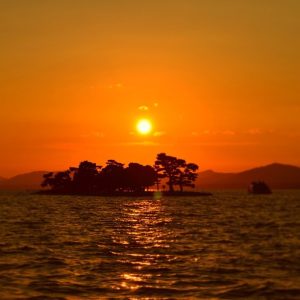 Matsue, the shining capital city of Shimane Prefecture, casts an irresistible spell on visitors, luring them with enchanting allure and earning a distinguished reputation as a city adorned with waterways reminiscent of the romantic Venice, Italy. Intertwined with a network of rivers, canals, and picturesque bridges that converge upon the majestic Shinjiko Lake, Matsue's essence thrives in this awe-inspiring body of water.
Conveniently located a mere 1.5-hour flight from Tokyo's Haneda Airport, with easy access via Izumo Airport, Matsue beckons travellers searching for seamless connections. For those seeking a more leisurely vacation, an exhilarating eight-hour expedition aboard the renowned Bullet train and local railways presents an opportunity to savour the scenic beauty along the way. Alternatively, the aptly named Sun Rise Izumo, a night sleeper train, promises a captivating 11-hour voyage, allowing passengers to embark on a timeless journey of discovery.
Throughout the years, Shinjiko Lake has ignited the creative passions of numerous literary luminaries. Among them, Lafcadio Hearn, an Irish-Greek author whose fateful journey led him to these shores after a distinguished career as a journalist in New Orleans, played a prominent role in putting Matsue on the world map during the 1890s. Hearn's vivid prose painted a mesmerizing portrait of the lake, immortalizing its captivating sunset in the annals of literary history.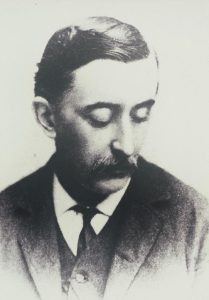 "Before me the fair vast lake sleeps, softly luminous, far-ringed with chains of blue volcanic hills like a sierra. On my right, at its eastern end, the most ancient quarter of the city spreads its roofs of blue-grey tile; the house crowed thickly down to the shore, to dip their wooden feet into the flood. With a glass I can see green citadel with its grim castle, grotesquely peaked. The sun begins to set, and exquisite astonishment of tining apper in water and sky.
Dead rich purples cloud broadly behind and above the indigo blackness of the serrated hills—mist purples, fading upward smokily into faint vermillions and dim gold, which again melt up through ghostliest into the blue. The deeper waters of the lake, far away, take a tender violet indescribable, and the silhouette of the pine-shadowed island seems to float in that sea of soft sweet colour. But the line down, and all the surface on this side of that line is a shimmering bronze—old rich ruddy gold-bronze.
All the fainter colours change every five minutes,–wondrously change and shift like tones and shades of fine shot-silks."    
Lafcadio Hearn "The Chief City of the Province of the Gods" in Glimpses of Unfamiliar Japan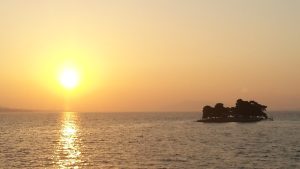 In a mesmerizing confluence of time, the captivating splendour of Shinjiko Lake once again bewitched the hearts of onlookers 110 years after the noble writer. This time, a Shimane native woman, deeply captivated by the allure of the lake, breathed life into the Shinjiko Sunset Café, nestled by its tranquil shores. To the surprise of customers, this charming establishment opens its doors during the enchanting moments when the sun bids its farewell, allowing them to savour aromatic coffees, artisanal craft beers, and delectable doughnuts while basking in the ethereal glow of twilight cascading upon the western horizon. In the face of inclement weather, the café finds it necessary to close its doors gracefully.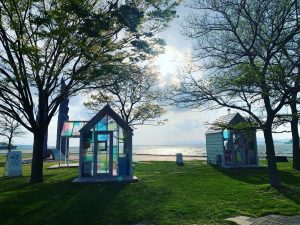 Natsuki Ueda, a 32-year-old native of the picturesque Okuizumo town nestled amidst the awe-inspiring Chugoku Mountains, personifies the essence of Shimane's profound heritage. This extraordinary region, brimming with mythical tales and timeless legends, occupies a revered position in Japanese folklore, serving as the hallowed stage where the divine Susanoo, esteemed younger brother of the revered sun goddess Amaterasu and esteemed progenitor of the Japanese Imperial lineage, astutely wielded the power of sake. Legend has it that he shrewdly intoxicated the fearsome eight-headed serpent monster, which had unleashed chaos upon the land before valiantly severing its heads, thus restoring tranquillity to ancient Shimane.
Natsuki's upbringing amidst the abundant wonders of Okuizumo, nurtured within the embrace of her close-knit family, instilled in her a deep-rooted affection for her local community. Driven by her aspirations, this young woman from a provincial town embarked on a transformative odyssey, enrolling at Shimane University in 2009 with dreams of becoming an English teacher. However, a desire to apply her English skills in a more practical manner led her down a new path, venturing abroad as an exchange student at the esteemed University of Arkansas. Even after graduating from her Japanese alma mater, Natsuki extended her sojourn in the United States, immersing herself in professional hospitality through renowned institutions like the Mitsukoshi Academy and Walt Disney University. In 2014, she embraced a formidable challenge, joining the illustrious Walt Disney World Resort in Orlando, Florida, an experience that would shape her perspective on hospitality.
This fateful encounter bestowed upon Natsuki a profound philosophy of service, igniting an unwavering passion within her to leave a lasting impact on others through her remarkable hospitality. Fueled by this aspiration, she harboured ambitious dreams of creating a place that would move to countless individuals.
Upon the completion of her one-year contract with Walt Disney World, Natsuki returned to her beloved Shimane, armed with a cherished goal. Despite her earnest efforts to secure a glamorous position in the vicinity of Matsue, the recent returnee found her ideal calling elusive. Nevertheless, she embraced the role of a self-employed entrepreneur, contributing to projects aimed at revitalizing the local economy. Through these endeavours, she encountered like-minded souls, forging meaningful connections while serving as a tourism ambassador for Shimane Prefecture. These unique experiences brought her eight-year dream to fruition, with unwavering support from passionate locals. The once unremarkable lakeside has now blossomed into an emerging tourist hotspot, a coveted destination that entices visitors from near and far, all thanks to Natsuki's unwavering dedication.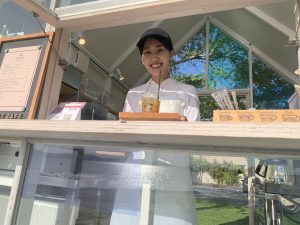 "When you see the sun saying goodbye to the peaceful Shinjiko Lake, it feels so magical, like something even Mickey Mouse would find enchanting! It makes our special guests really happy too!" said Natsuki, the dedicated sunset concierge.
Natsuki's focus now shifts to warmly embracing incoming tourists, utilizing her English skills to the utmost. Driven by her lofty aspirations and an unwavering commitment to exploring new possibilities, she propels herself ever onward, embarking on a journey of continuous growth and striving for excellence.
4-1Sodeshi, Matsue, Shimane
How to get to the Shinjiko Sunset Café 
By walk
Twenty minutes from JR Matsue Station to the cafe at the back of the Prefectural Art Museum.
By bus
Take the Matsue City Bus bound for Minami Jyunkan Uchimawari and get off at the Kenritu Bijjyutsukan -mae Bus Stop(6 minutes), then 2 minutes on foot to the cafe.
Business days&hours
Beautiful sunset days allow for open / Holidays are irregular
Weekdays 5:00 pm-sunset: Sunset index of 50 and more allows open
Saturdays, Sundays, and holidays 15:00-sunset: Sunset index of 30 and more allows open