Matsue – Masahiko Nakasumi makes cocktails with an air of calm and assurance. The bartender at the illustrious Isemiya in Matsue, Shimane Prefecture's most popular amusement area, has served untold drinks and food over the years. In November 2022, he renewed his classic British-style bar and restaurant, WindsorKnot.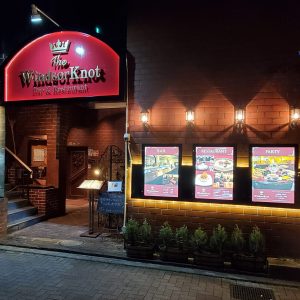 The establishment was named Windsor after the old royal castle in the U.K., and Knot after its connections. WindsorKnot's exterior is red brick, while its interior looks like a courtly British gentlemen's club, so much so that it attracts many refined customers from the Nakaumi metropolitan area of Matsue, Izumo, and Yonago in Tottori Prefecture. They can spend precious time with loved ones and friends while eating and drinking the fare that Mr. Nakasumi and his staff serve.
Hailing from Osaka, Nakasumi came to Matsue as an employee of a franchise Takoyaki shop in 2008. After working there for a while, he eventually quit but was determined never to return to Osaka, continuing to live in Matsue on his own.
"Losing my address prevented me from finding jobs. It was painfully difficult," said Nakasumi. He hopped from job to job until opening his bar in Isemiya.
In 2014 an executive of a bar in Matsue asked him to become the new barkeeper in Isemiya. Thanks to this assignment, he ran the bar, KnotHaunt, despite little knowledge about making cocktails and name recognition. His work at KnotHaunt enhanced sales and gave him new ambition to expand his business while contributing to society.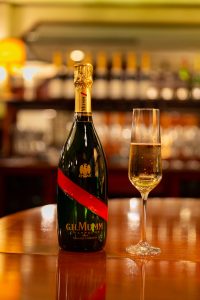 In 2017, he opened his own bar and restaurant and moved to a new place, the same building as WindsorKnot, to increase his business. The restaurant's name was Chateau Smith, named after his nickname "Smith." His concept of a classical – not casual – style allowed Chateau Smith to stand out as a posh restaurant in the Sanin area in Shimane and Tottori prefectures. His business strategy brought in many wealthy customers. Chateau Smith played an important role as a place for social interaction for the local upper class, and his business grew.
However, in 2020 the COVID-19 pandemic hit Namasumi's business because the Japanese government asked people to refrain from eating out. Amid plummeting sales, he maintained running the restaurant supported by his patrons and subsidies from the government. He temporarily sold Takoyaki near the restaurant to survive such a harsh business environment. This approach brought many new supporters.
Mr.Nakasumi was making Takoyaki during the declaration of a state of emergency in 2020.
In November 2022, he changed the restaurant's name to WindsorKnot to revitalize his business. He was eager to live up to customer's expectations, so he served delectable lunchtime menus. He also used crowdfunding, a popular fund-raising way for restaurants.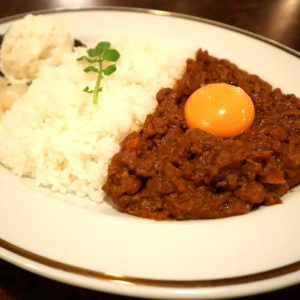 Winsor Keema curry, a well-reputed special lunch menu of the restaurant (JPY 880). 
The pandemic still affects Nakasumi's business and the restaurant industry, but he is confident in such a grim situation.
"I would like to make a formal restaurant popular in rural Japan like Shimane," he said.
He is always going forward, and nothing can stop it.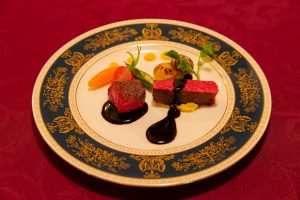 Full course meal "Salon"  (JPY 7,700 – 9,900)
(Edited by an English writing instructor at Temple University Japan)
How to get to WindsorKnot's (Japanese website)
English is available
501 Isemiya Matsue,Shimane
TEL 0852-28-1556
From JR Okayama Station on the Sanyo Shinkansen, take the Yakumo Limited Express to JR Matsue Station (2 hours and a half), then walk 10 minutes to the restaurant.
Business day & Time
Monday – Saturday (Wednesday closed)
Lunch 11:30 AM-2:30 PM
Dinner 6:00 PM–1:00 AM
Sunday
Lunch 9:30 AM-3:00 PM
Dinner 5:00 PM–10:00 PM
Lunch 900-3,999 JPY Dinner 7,700 -9,999JPY
VISA, JCB, Diners, UC, AMEX, MASTER, Unionpay(銀聯)