Matsue – The vibrant hues of umbrellas have painted Matsue's rainy season in a picturesque display that will continue to captivate until the end of July. Aptly titled "The Matsue Umbrellas' Sky," this captivating event embodies the essence of Matsue as a city harmonizing with raindrops.
A stunning array of 140 umbrellas, adorned with a spectrum of six enchanting colours, grace the interior of Matsue Terrsa, a prominent landmark located just steps away from the station. Spearheaded by the Matsue Tourist Association, this exhibition is brought to life with the invaluable support of Matsue Women's High School, creating a mesmerizing spectacle that showcases Matsue's distinctive charm.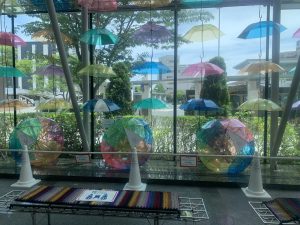 (Witten by Takashi Saito)
The Matsue Umbrellas' Sky at Matsue Terrsa
From 8:30 am to 10:00 pm, free of charge until the end of July
478-18 Asahi-machi, Matsue, Shimane
How to get to Matsue Terrsa
From JR Okayama Station on the Sanyo Shinkansen, take the Yakumo Limited Express to JR Matsue Station (2 hours and a half), then walk for one minute.