Matsue – Frank Sinatra sang the song titled "On the road to Mandalay."  Was he still alive, he might sing  another title, "Go to Warsaw." Sachi Morimoto is a native Shimane woman interested in Poland, eager to visit the middle European country. The Polish movie maestro, Andrej Waida, films inspired and fascinated her to be interested in the country far from her mother country.
Sachi was born and raised in Daito, the suburban area in Matsue until she graduated from high school. Having graduated from high school, she worked in Osaka. Yet she did not suit the atmosphere of Osaka, returning to her hometown soon. After returning to her local neighbourhood, she started serving coffee as a barista at a chain coffee shop in Matsue. However, her skill as a barista was so excellent as to be scouted by a prestigious local café.
While working for the café, she maintained her interest in Poland. In 2017 she, at last, was able to visit the country. While travelling around Warsaw, she encountered demonstrations against anti-ex-US President Tramp. Her journey contributed to her understanding of Polish culture.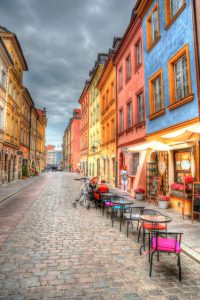 One day she stumbled on a woman speaking the Polish language in Matsue. The Matsue woman enjoyed shopping at a bakery; she heard the language told by the early old-aged western woman. Astonied at hearing the actual polish language, Sachi impulsively asked the woman who spoke polish, "Are you Polish ?" "Yes," the woman replied. The woman was a natural polish; her name was Maria. It was a scarce opportunity to meet the native polish in Japan's town. Maria had married a Japanese husband and stayed in Poznan, Poland. However, her husband was so sick as to come back to his hometown to receive medical treatment. The encounter enabled her to make a Polish friend in Japan. Maria invited Sachi to her house in Matsue to chat over tea. It was a jolly wonderful memory of Sachi. Sachi wanted to revisit Warsaw If the covid-19 would finish.