MATSUE – The floating lanterns event, a part of the Bon Festival, was held on August 16th on the Ohashi River in Matsue. This river is a central canal connecting Shinjiko Lake and Nakaumi. Matsue's Buddhist Association organized the event.
A multitude of lanterns in various hues – red, yellow, blue, and green – gently drifted on the river's surface near Matsue Ohashi Bridge. This Buddhist ritual is meant to commemorate and honour the departed.
According to Japanese beliefs, the spirits of the deceased return to the world of the living during the Bon season, and this ceremony is meant to guide them to the realm of the afterlife.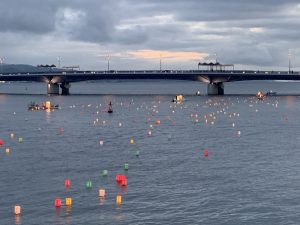 Accompanied by the echoing chant of a monk reciting sutras, a crowd of spectators gathered to witness the event, which created a deeply solemn and reverent atmosphere. Among the spectators was Annika Pfister, a tourist from Switzerland, who shared her impressions, saying, "While I may not fully grasp the significance of this ceremony, Matsue strikes me as a charming and thoughtfully designed compact city."
This event marks the end of the Bon season each year, leaving a lasting impression on all who partake in its spiritual significance.
Matsue is the capital city of Shimane Prefecture and is said to have been a small fishing village until its foundation by the shogunate Yoshiharu Horio in 1607. Afterwards, the Matsudaira shogunates developed Matsue's culture, such as tea ceremonies, to become a unique city in Japan.
Matsue has retained its elegance. Shrines, temples, and houses are exquisitely arranged on a grid centred around Matsue Castle. Matsue has several canals and many bridges ,and operates excursion boats like Venezia, Italy.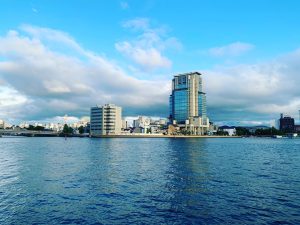 The most recommended route (total of 2 hours) to the city is by JAL, from Haneda to Izumo Airport, which takes 1.5 hours, then 35 minutes by bus to JR Matsue Station. The total roundtrip cost is around 70,000 yen.
A slower trip (total of 12 hours) is taking the night sleeper train, the Sunrise Izumo, from Tokyo to Matsue Station, a private room with a great view of Japan. The cost is 45,000 yen roundtrip (a bunk bed is half-price).
A common way (total of 8 hours) is to ride the bullet train from Tokyo Station to Matsue Station via Okayama Station. Visitors should transfer from the bullet train to the Local Limited Express Yakumo at Okayama Sation bound for Izumo Sation, which will cost under 40,000 yen roundtrip.
How to get to Matsue Ohashi Bridge  
| Bus stop from Matsue Station | Bus route | Bus stop to get off | Travel time | Fare |
| --- | --- | --- | --- | --- |
| No. 2, 3, 6 stop | Via Matsue Ohashi | Ohashi Minami-zume | About 5 minutes | 160 yen |
| Kenmin Kaikan Mae bus stop | Via Matsue Ohashi | Ohashi Kita-zume | About 5 minutes | 160 yen |
Matsue Ohashi is a bridge located in Shirakatahommachi, Matsue City, Shimane Prefecture, spanning Lake Shinji and Ohashi River. The bridge is about 1.1km long and is a landmark of Matsue City.