MATSUE –  A Kyoto native woman, Misaki Fukuma, roasts coffee beans at Imagine Coffee in Matsue. The café is so sophisticated as to attract many customers. The customers can enjoy several flavours of coffee roasted by Misaki.
Having majored in architecture at her university, she worked for a construction company in Kyoto. Nevertheless, she decided to change her career to be engaged in the coffee industry because she had been captivated by the flavours of cups of coffee when she was a teenager. While serving cups of coffee in a café near Fushimi Inari Taisha, one of the prestigious Japanese Shinto shrines in Kyoto, she was trained as a barista.
Married to a Matsue man, the Kyoto woman moved to Matsue. Since having never had relations except for them, she felt intensely solitary at the beginning of living in the city. Yet, one day she tried to ask the master of the cafe in Matsue to hire her, a move that led to getting her a precious opportunity to work for the famous eatery in the water city. Her desire to pursue coffee enabled her to serve the parched drinks in her new endeavours, Matsue. 
Her unique Kyoto-accented Japanese enabled Misaki to have popularity among the regular clients of the shop. Although a master had been the only roaster at the café back then, her passion allowed her to be responsible for roasting. Being the first female roaster, she became an outstanding staff of Imagine Coffee. The coffee shop also opened its new roasting coffee bar near the Matsue City hole, and Misaki was promoted as the bar's chief roaster. At the same time, she gave berth to her baby. It seemed as if a deity of the Matsue celebrated her.
Yet the spread of the covid-19 hit Matsue, pounding the region with damaging the local economy. It was cruel to deprive Misaki of the chance to roast coffee. The harmful influence was so severe as to diminish the coffee shops' profits. Both the coffee places were forced to decrease the number of their operations. Still, with the help of the staff members and regular clients, the company's workers, including Misaki, Imagine coffee was able to revive and continue to conduct its business.
Severe business conditions caused by the pandemic as the coffee bar has been now, Misaki is serving her roasted coffee with attentive hospitality to her customers. Many of them have resumed drinking cups of joe at Imagine Cofee Roastery. The journey of Misaki's finding authentic coffee is still going on.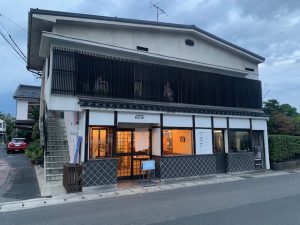 Imagine Cofee Roastery 
1F-Imagine Coffee Building
1-36 Omachi Matsue, Shimane
6900848