Matsue – Suetsugu-cho, part of the Matsue block, celebrated Children's Day on May 5th while beating Japanese drums. The sound of drums, bells, and bamboo flutes resounded throughout the neighbourhood. This celebration strengthened their solidarity as preparing for Dogyouretsu, or the Drums parade, scheduled to be held in the middle of coming October.
Suetsugu-cho — prospered once as a fishing hamlet but now has the Matsue City Hall — has been one of the prestigious Matsue neighbourhood associations and boasted its brilliant tradition and history since the Edo period. Its symbol colour is dark green.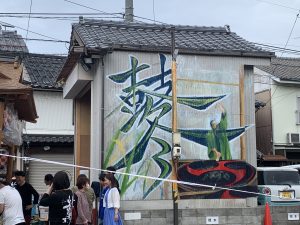 Dogyouretsu is one of the most vital Shinto rituals for the locals, making the introverted Matsue inhabitants energetic, so much so that it attracts many sightseers from all over Japan.
Beating drums were considered a dedication to a good harvest and peace by ancient inhabitants of the city. Dogyouretsu manifests such an ethos of Matsue.
(Takashi Saito)