Tamatsukuri – The best tourist resort in Matsue is Tamatsukuri, a picturesque town with many hot spring inns and a colourful history dating back to 1,300 years. Surrounded by magnificent hills in a basin where a main river flows, famous for its row of cherry blossom trees in Spring. Such an idyllic atmosphere attracts artisans.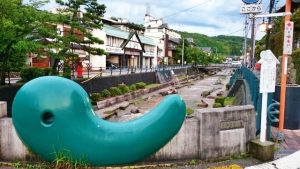 Minako Tanaka, nicknamed Minamin, is an amigurumi craftswoman knitting the Japanese art of small stuffed animals. Her 16 years of experience creating these stuffed dolls have produced exquisite artworks, getting acclaim and fascinating many amigurumi lovers.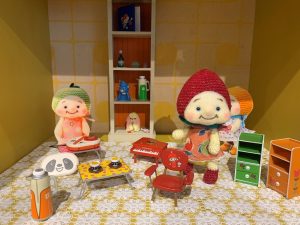 Minamin is also a collector of old goods and runs her select shop in Tamatsukuri Art Box, a former Japanese inn but now a commercial complex with five distinctive shops – souvenir shop, café, massage parlour, Kimono rental shop, and Minamin's select shop. She deals with her Kawaii(cute and retro) collections, glass cups drawn with anime characters, elegant tableware sets, and fancy Knick-knacks imported from European and Asian countries. Her made laid-back atmosphere captivates customers and beckons them into nostalgia.
"Showa-ish, the end of 1926 until the beginning of 1989, is fresh for the younger generation, especially generation Z because designs both the Showa era and today are different," said Minamin.
Born and raised in the castle town of Matsue, Minamin was crazy about creating knitted goods, drawing pictures, and even writing poems in her girlhood. However, she never became a craftswoman from the start of her career. Instead, she worked in Osaka as an office lady( so-called OL in Japan) and spent her hectic time. She did not have enough time to be engrossed in the time to create( but she tried nail art).
10 years later, she moved to Hyogo, a part of the Kansai district. The Matsue native woman experienced deep loneliness. This disconnectedness made her fret about who she is and drove netsurfing in a bid to forget such loneliness, which led to finding an amigurumi website. This encounter inspired her to be an amigurumi artist. After returning to her home town, she established her select shop while displaying her made plushies.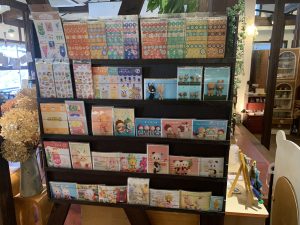 "The true essence of knitting amigurumi is creating a three-dimensional figure from a single thread while feeling a thrill that I don't know the shape of the dolls until they are complete. At the same time, it is also challenging and exciting," said the artist.
Minamin's engrossing story entertains her customers, bringing Tamatsukuri wind of art.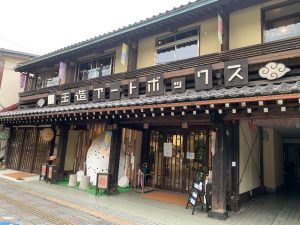 2F Tamatsukuri Art Box
1241Tamatsukuri,Tamayu-cho
Matsue, Shimane
690-0201
Tel 0852-67-5050
How to get to Minamin's Select Shop
From JR Okayama Station on the Sanyo Shinkansen, take the Yakumo Limited Express to JR Tamatsukuri Onsen Station (2 hours and 40 minutes), then transfer to the Ichibata Bus Tamatsukuri Line and get off at "Onsen-Shita" bus stop (4minutes).
Business day & time
Monday – Sunday (Thursday closed)
2F Minamin's Select Shop 10:00-5:00 PM
1F Souvenir Shop 9:00 AM-6:00 PM
VISA、MasterCard、JCB、AMEX、銀聯、DISCOVER、Diners Club
Suica、PASMO、QUICPay、iD、nanaco、WAON、Rakuten Edy、PayPay、LINE Pay