Yokota (Oku Izumo) – A Netherlandish artist excellently attempts to uphold Japan's pride in Yokota. Jikke Van Loon is a well-reputed visual artist inspired by the Japanese ethos. She was so attracted by the spirituality of Japan as to be led to Yokota(横田), located in the Chugoku Mountains, remaining an authentic scenery of Japan. The purpose of her coming to Shimane's local town deep in the mountains is to bring back the soul of the statues of the Guardian Budda(仁王像), which exists in Holland, to where they came from.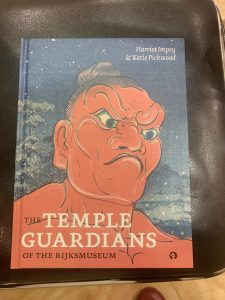 The Buddist statues had been initially set at the gate of Iwayaji Temple(岩屋寺), which prospered in the Japanese medieval period but is now ruined. Meanwhile, the statues were taken to RIJKSMUSEUM, The Netherland National Art Museum. It was Ms Van Loon who was fascinated by the beauty of the carvings as she encountered the Buddas in Amsterdam.
Since Ms Van Loon was eager to bring back the souls of the Buddas to where they were,  she came up with a good idea of tracing the shape of the carvings, beginning to come to Yokota in 2015. Since then, she devoted herself to restoring the budda employing the Netherlandic traditional art technic, Delftware, in a move that strengthens Engi(縁起), or the relationship,  between the countries.
Engi is an essential concept for Buddism, it regards the world as interdependent. Engi enabled Ms Van Loon to create the masterpieces last year, and her works are now displayed at a community centre in Yokota, attracting many visitors while getting well-reputation.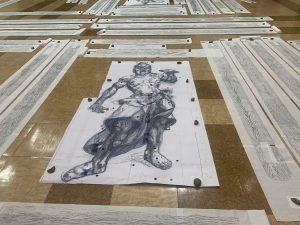 How to get to Yokota Cho
By rental car(recommend)
It takes 90 minutes from the centre of Matsue, near the station, to the centre of Yokota Cho through Rute 432 and 314.
By JR Sanin Main Line and Kisuki Line
It takes 2 hours and 30 minutes from JR Matsue to JR Izumo Yokota.